Useful Information
Oze National Park is a special protection area.
The following tips will help all visitors continue to enjoy Oze in its pristine state for years to come.
The most basic point is that all access is on foot.
There are no cars or other motorized vehicles allowed inside Oze.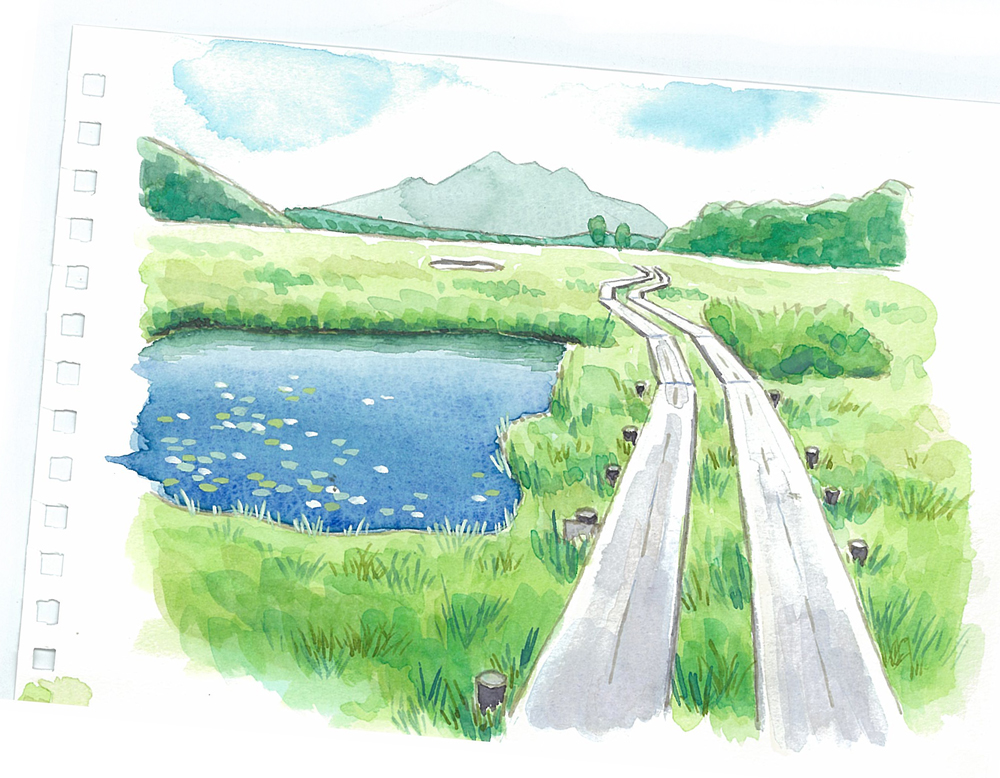 TIPS FOR A SUCCESSFUL OZE VISIT
CLOTHING
Prepare for a variety of weather! Spring and autumn can be surprisingly cool, and so can evenings in summer with temperatures routinely below 10C. Pack long sleeves, pants, rain gear, and a hat.
FOOTWEAR
You'll be walking everywhere you go in Oze, so wear comfortable trekking shoes or boots. Make sure the soles are thick enough to protect you from rocks, roots, and such.
OTHER EQUIPMENT
Bring a flashlight and plenty of water. Snacks are a good idea, too. Consider also picking up a guidebook and a map, even though signs in the park point the way. Be sure you can fit everything inside one backpack or other pack, leaving your hands free when you walk.
BUILD IN PLENTY OF TIME
There's no worse way to see a national park than on a tight schedule. Leave lots of time in your plan for stopping, looking, listening, waiting out bad weather, and so on.
PACK IT IN, PACK IT OUT
There are no trash cans in Oze. Whatever you pack in, please pack out.

STAY ON THE PATH
Don't leave the wooden planks to make a trail of your own. One reason Oze is so pristine with wide open marshland is that everybody stays on the wooden planks provided. Restoring damaged marsh is difficult.So, please stay on the boardwalks, refrain from collecting plants or animals, and leave your pets at home.
ABOUT THE USE OF A HUT
ARRIVE AT YOUR HUT EARLY
Plan to arrive at the place you'll stay by 4:00 p.m. Sunset comes sooner to the mountains than many people think, and you don't want to be caught feeling your way along forest boardwalks in the dark.
SHARED ROOMS
It's customary to share rooms at mountain huts. During less busy times we can often accommodate requests for a private room, but there's no guarantee. In busy times, we usually assign one person to a one-tatami area where they sleep on a futon. The toilets and sinks are shared as well, in a separate area down the hall from the rooms. A tatami is a traditional mat made of woven straw. The standard size is 1.53 square meters (16.47 square feet). Be sure to take off your shoes before stepping on tatami mats. Most westerners come to like tatami quickly because they breathe well, are comfortable, regulate temperature by insulating against cold and absorbing heat, and fill a room with the natural smell of straw.
NO SOAP, SHAMPOO, OR TOOTHPASTE
Finally, as a measure to protect the environment, we don't allow the use of soap, shampoo, or toothpaste at huts in Oze. There's plenty of fresh water, and we want to keep it that way. Therefore, please be prepared to wash up and brush your teeth with water only.
LIGHT OUT
Lights out is 21:00. Departure early in the morning is a principle at a mountain. Most people go sleep from early. Please be cacreful for them.
EARLY IN THE MORNING
Please wake and prepare of departure of an early morning as possible quietly. unless other person who remain asleep may not be woken.