About"Chozo Hut"
130 years ago, in 1890, Mr. Chozo Hirano of Hinoemata Village, at the age of 20, went into woods and mountains of Oze and built a hut at Nushiri (now called as Numajiri) on the west shore of the Ozenuma Lake. That is the very beginning of the Chuzo Hut. Moved to the east shore of the lake in 1915 (where the hut stands now), as the only mountain lodge in the Oze area then, the Chozo hut became a home for hikers and natural lovers for their delightful exploration in this natural wonderland. As numbers of lodges in the area get increased through the years, the Chozo Hut, always with warm welcome, continues to be the best place for visitors to stay, get a rest and relaxed.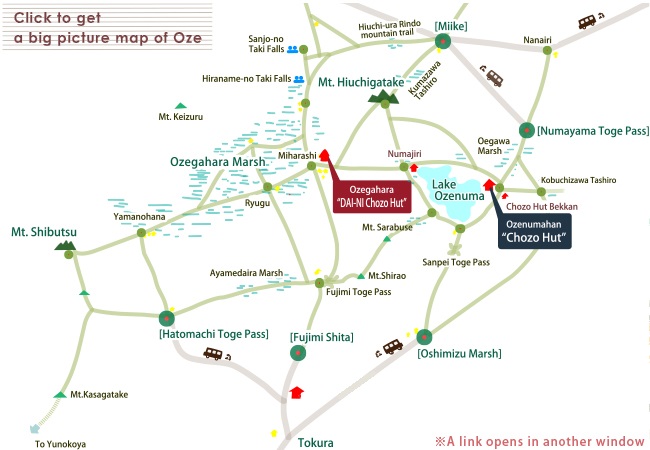 It is a great place to stay for a walk around the Ozenuma Lake area and a hike to Mt.Hiuchigatake. An hour walk away from Numayamatoge Pass in Fukushima Prefecture, a trailhead through which visitors can enter the park; Three hour walk away from Ooshimizu, a trailhead in Gunma Prefecture. Minutes walking away from the hut, the Ooegawa Marshland is full of alpine flowers and trees blooming colourfully in searson. (Accommodations for 180 guests)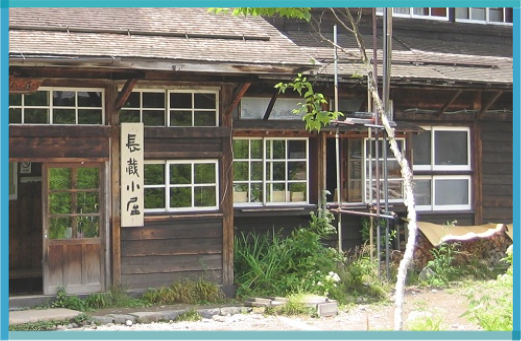 It is a great place to stay for a ramble in the Ozegahara Marshland, a hike to Mt.Hiuchigatake and Mt.Shibutsu, and a visit to the Hiraname Falls and the Sanjyo Falls. Three to Four hour walk away from any trailheads of Numayamatoge Pass and Miike in Fukushima Prefecture, Hatomachitoge Pass in Gunma Prefecture, and the Chozo Hut on the east shore of the Ozenuma Lake. (Accommodations for 70 guests)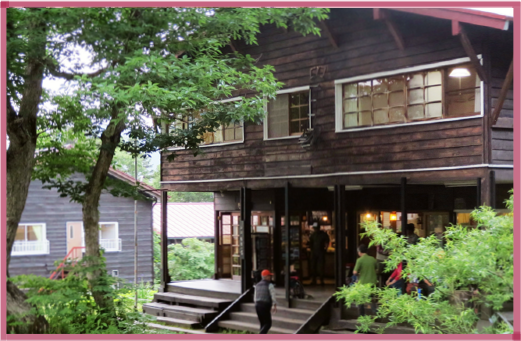 Located just outside of the Oze National Park, in Katashina Village, near to Ooshimizu, Hatomachitoge Pass, and Fujimishita in Gunma Prefecture, it is great as a base for visiting to the park. Mt.Shibutsu and the Ayamedaira Marshland can be visited in a day trip from the lodge. Katashina Village is full of natural beauty other than Oze, such as Marunuma Lakes and Forests and Hotaka Highlands. (Accommodations for 50 guests)
*** Closed in 2020 ***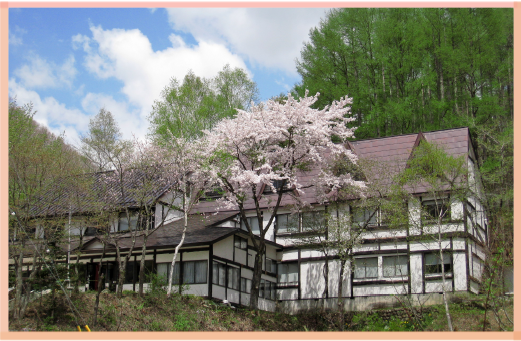 Sightseeing spots
Oze National Park was part of the enormous Nikko National Park until 2007. It boasts a treasure trove of alpine plants such as skunk cabbage (mizubasho), yellow alpine lilies (Nikko kisuge), and cotton grass (watasuge).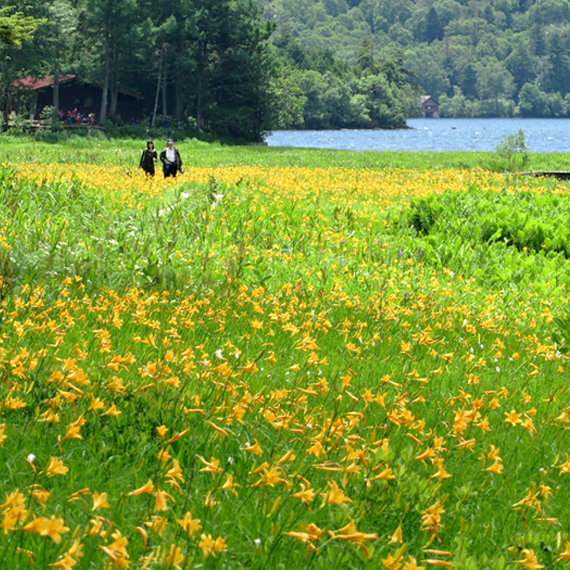 The busy season runs from late April to early November. The slow season runs from mid November to mid April, due to heavy snowfall. It's a popular hiking destination. The Japan Visitor Guide says Oze "is renowned for its vistas of wild flowers and majestic mountain scenery" and "a spectacular example of what beauty nature can produce with fire and brimstone. Lava from an eruption of nearby Mt.Hiuchigatake dammed the Tadamigawa River creating the marshlands."The many streams in Oze provide much of Tokyo's energy requirements, which is why 70% of the park land is owned by the Tokyo Electric Power Company. Except for spotting an occasional logo burned into a boardwalk or elsewhere, though, you'd never know it while walking through the scenery. In the hustle of modern Japan, Oze's precious nature provides respite from big cities, trains, ringing cell phones, and the demands of work. Its eight square kilometers (3.1 square miles) beckon the residents of Fukushima, Gunma and Niigata prefectures, all three of which it touches. Its convenient location two hours from Tokyo makes it a popular destination for people traveling from afar, as well. It's the highest marshland(Ayamedaira) on Honshu Island at an elevation of 2,000 meters (6,562 feet),and from its base rise impressive mountains such as Mt.Hiuchigatake, Mt.Keizuru, and Mt.Shibutsu. The wetland is dotted with marshes and ponds, through which boardwalks lead hikers on a convenient,lovely path to see the grasses, waters and flowers of the land.





The highest peak(2,356m =7,730 feet) in the Tohoku region and soaring to the northeast of Ozegahara Marsh, this mountain is known for offering the best view in the region. It commands a splendid view which sweeps from Nikko to the mountains of Niigata, making the viewer feel as if they are close at hand. Even Mt.Fuji is viewable far away on the southwest when sky and air is clear.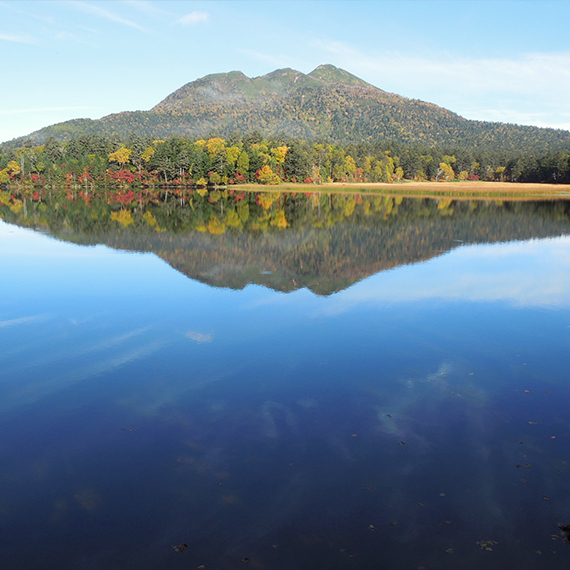 ↓Click on a photo to see the full size of picture
This serpentine-rock mountain (2,228m =7,310 feet) is, grandly sitting at the southwest of Ozegahara Marsh, full of alpine plants. Precious flowers are blooming one after another throughout season, especially in July and early August is such wonderful.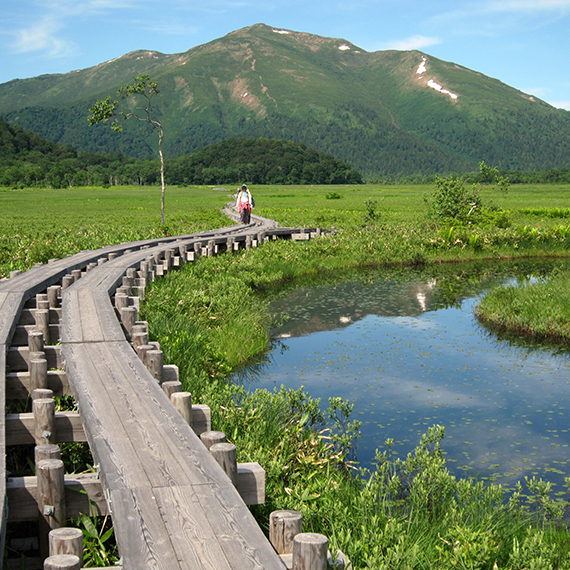 Note the prohibition period from entering Mt.Shibutsu in May and June, and the ascending-walk-only rule on the east-slope trail between the summit and Ozegahara, for conservation purpose.


↓Click on a photo to see the full size of picture